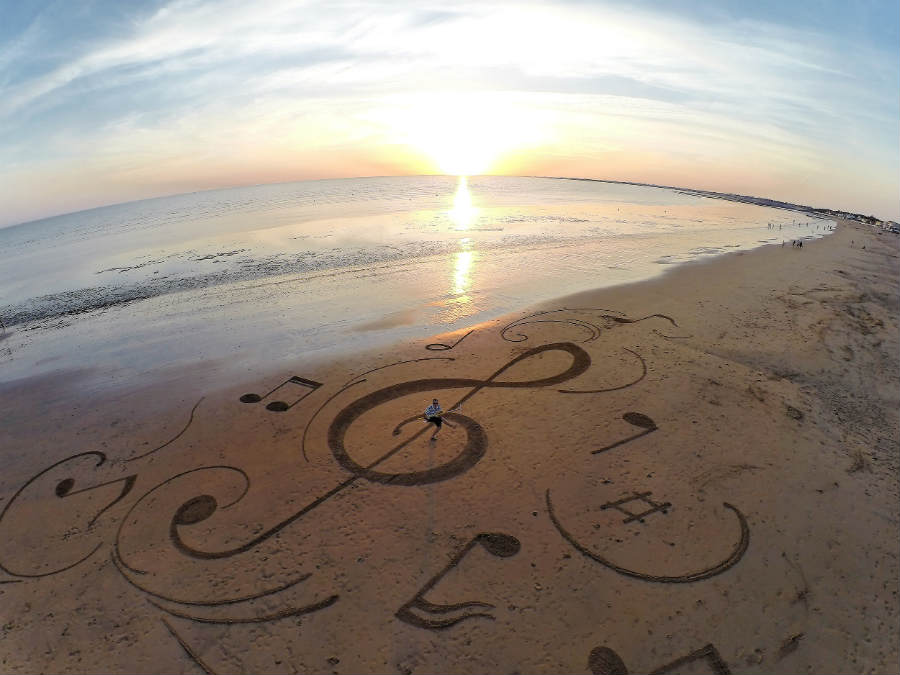 We are used to thinking about music in terms of acoustic rather than visual components. However, sand can offer beautiful visual representations of musical instruments or renditions of the portraits of famous composers. Whether you like anamorphic drawings or you lean more towards 3d sculptures, we rounded up seven of our favourite music-related sand artworks. If you want to try this at home (or at your own beach), we suggest you start with treble clefs (pictured above) that, as simple as they may be, still look stunning on sand.
1. Sand Art Group Sand in Your Eye created this anamorphic reproduction of a Stradivarius on Fife Beach to celebrate this year's East Neuk Festival, and this sand violin is modelled after the one belonging to prince Leopold von Schwarzburg-Sonderhausen, who died in 1906. The artwork, however, was short-lived, as it was swept away by a wave. Fortunately, the original instrument is in a better condition even though it went through quite an ordeal: after World War II, it was seized by the East German regime.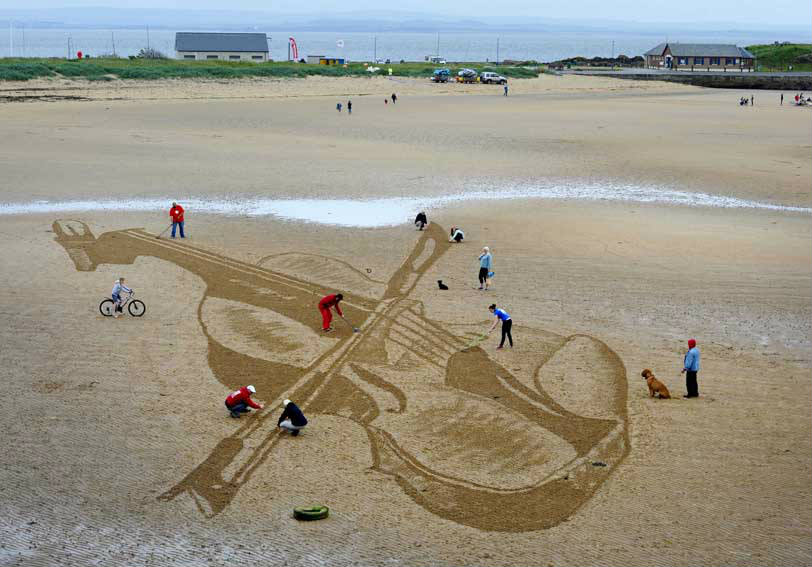 2. Sand In Your Eye's skill is not limited to anamorphic drawing, as they are also well-versed in 3d art. For the festival Finale, American composer John Luther Adams composed a piece for 32 French Horn players. So, a 3d sand sculpture depicting said instrument was a given.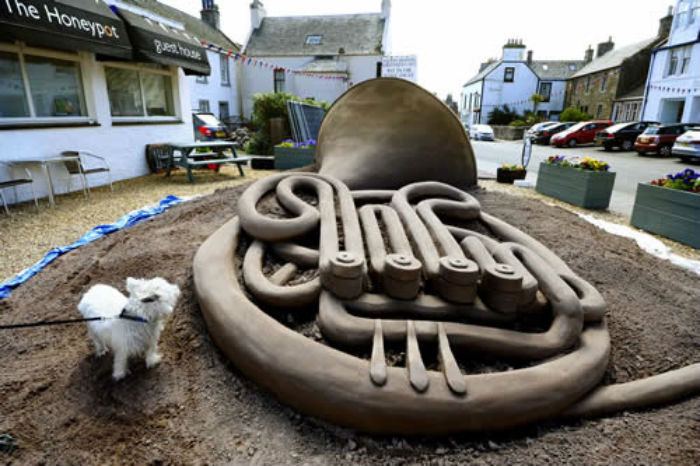 3. In 2014, East Neuk Festival hosted a Schubertiad and, to celebrate the event, Sand In your Eye fashioned an anamorphic portrait of the German romantic composer. Needless to say, the tide washed it away.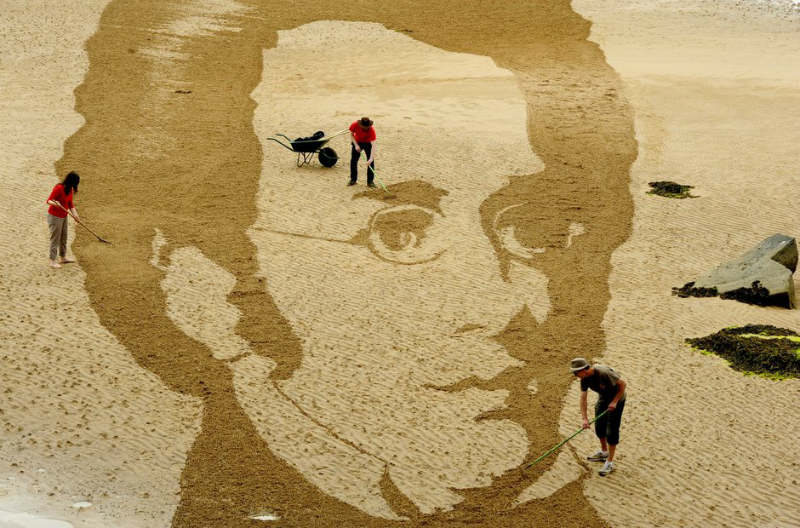 4. The 2011 edition of East Neuk Festival explored Beethoven's late period, as his final three sonatas were played by Beethovenian pianist Llyr Williams. For this reason, a bust of a frowning Beethoven—complete with a Samson-like mane— adorned the village of Crail. Again, the artists of sand art firm Sand in Your Eye were behind this creation.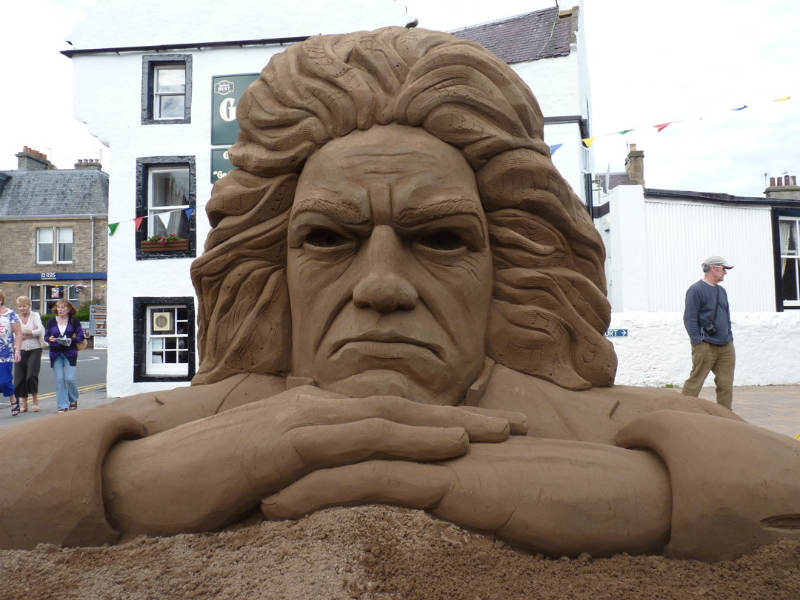 5. Mount Maunganui-based artist Jamie Harkins draws sand artworks that range from geometric constructions to fairy tale-fit mushrooms. However, he had no trouble sketching a piano and pretending to riff on its keys.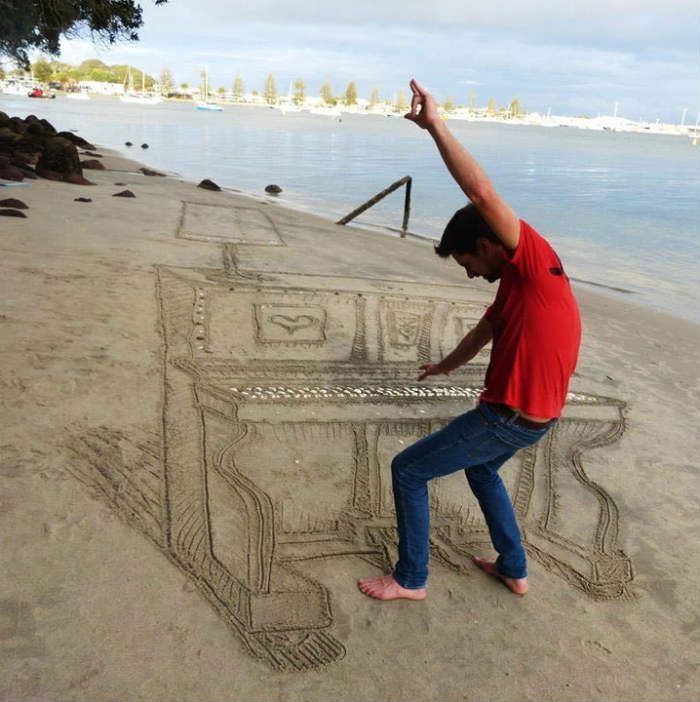 6. Other music-related drawings by Harkins include a guitar.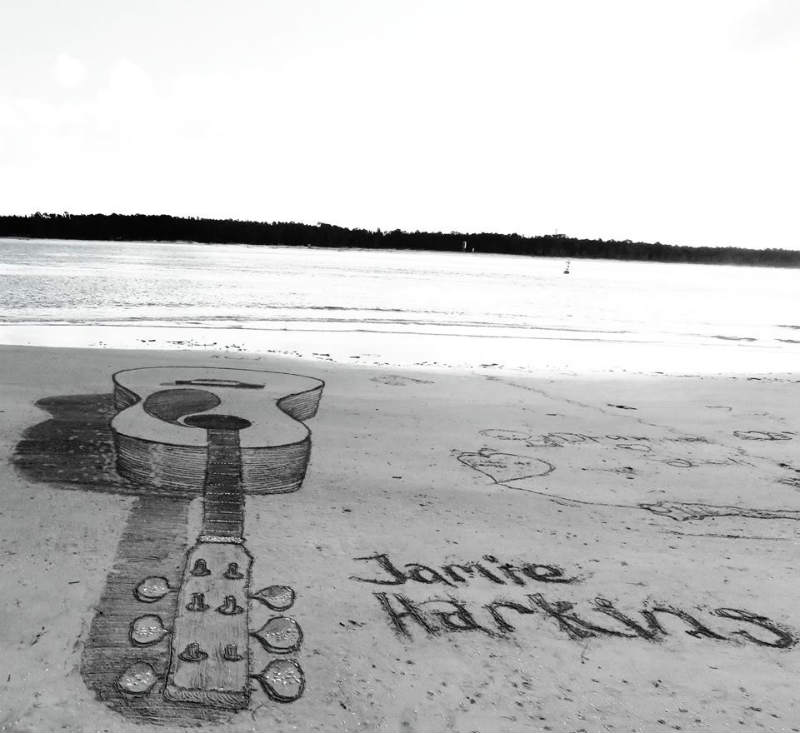 7. Music was the theme of the 2013 edition of FIESA festival in Algarve and therefore, the folks behind ProSandArt created a series of sculptures in the town of Pera. Those creations portrayed famous musicians and composers from different eras: Mozart could be seen along with Beethoven, Bono, Carmen Miranda, and Lady Gaga.