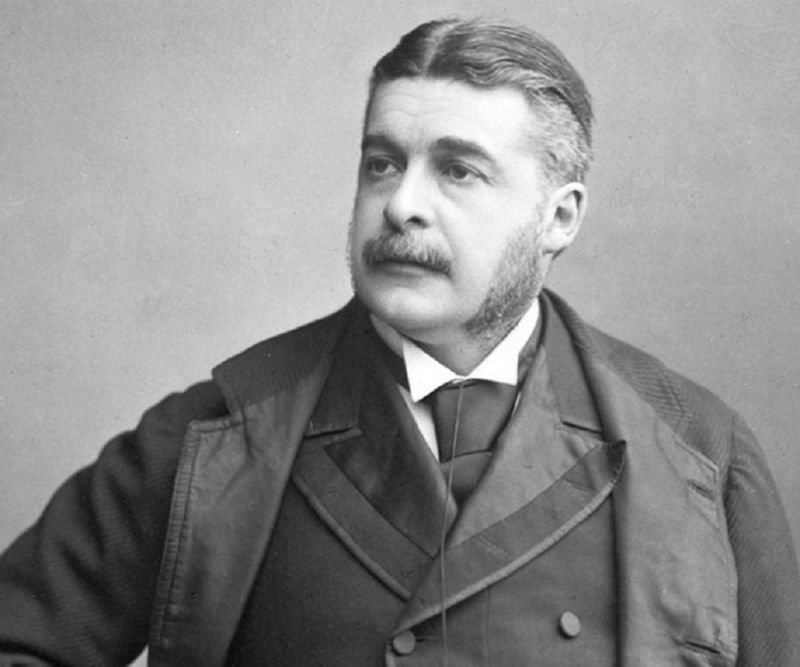 The Victorian-era composer, Arthur Sullivan, is most famous as part of the British opera writing team of Gilbert and Sullivan who collaborated on 14 comic operas in the late 19th century. The popularity of their operettas, such as H.M.S. Pinafore, The Pirates of Penzance, and The Mikado, is due to the music as well as W. S. Gilbert's librettos and lyrics that often spoofed traditional pomp and pageantry. In addition, Sullivan wrote numerous compositions outside of his professional partnership that ranged from hymns to large choral and orchestral works.
Sullivan (1842-1900) was born in London and surrounded by music at an early age. His father was the military band conductor at Royal Military College, Sandhurst, and supplemented his income by giving private music lessons. Arthur quickly learned how to play many of the band instruments and composed his first anthem by the time he was eight years old. He was accepted in the choir of the Chapel Royal at age 11 and was soon a soloist as well as composing and arranging hymns.
He received the first Mendelssohn scholarship offered by the Royal Academy of Music at the age of 14 while remaining as a soloist with the Chapel Royal. His education continued in Germany at the Leipzig Conservatory, studying styles and techniques of Mendelssohn and other composers such as Bach, Verdi, and Wagner. His graduation piece of incidental music based on Shakespeare's The Tempest was performed the following year, in 1862, at London's Crystal Palace. The success of this work received high praise from author Charles Dickens who attended one of the performances.
Over the next few years, Sullivan juggled composing with his position as principal of the Royal College of Music, formerly called the National Training School for Music, and also as organist at the Royal Opera House, Covent Garden. He had two major works performed in 1864: a ballet, L'Île Enchantée, and a concert work, Kenilworth, for chorus and orchestra. In between writing large-scale religious and symphonic works such as In Memoriam (1866) after his father's death, and The Prodigal Son (1869), an oratorio, he collaborated with librettist Francis Cowley Burnand for his first comic operas, Box and Cox (1866) and The Contrabandista (1867).
Sullivan's well-rounded success in religious, concert, and comic opera works provided plenty of opportunities and commissions. In 1871, he composed the famous hymn, Onward Christian Soldiers, before writing his large work, Festival Te Deum (1872), to celebrate the Prince of Wales' recovery from typhoid. He continued writing incidental music for the theater during this time.
The impresario, Richard D'Oyly Carte, introduced Gilbert to Sullivan in 1875 and the two collaborated on new operas through 1889 and later in the mid-1890s. They enjoyed tremendous financial success as a result and D'Oyly Carte built the Savoy Theatre specifically for their operas. He also built a theater for English grand opera which opened with Sullivan's opera, Ivanhoe (1891).
When Queen Victoria opened the Imperial Institute in South Kensington in 1893, Sullivan composed the Imperial March for the occasion. For the Queen's diamond jubilee in 1897, he wrote the music for the Jubilee Hymn and composed a ballet, Victoria and Merrie England, as part of the jubilee festivities. He set Rudyard Kipling's poem, "The Absent-Minded Beggar," to music in 1899 to raise money for families with members serving in the Boer War. His last complete composition, Te Deum Laudamus (1900), was also relevant to the Boer War, commissioned by the Dean and Chapter of St. Paul's Cathedral in honor of future British victory.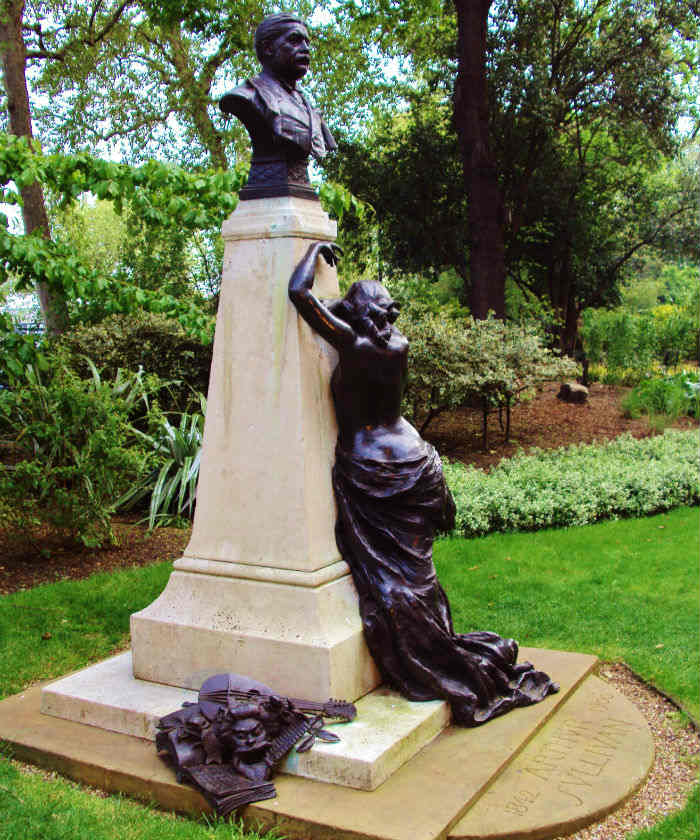 Sullivan died November 22, 1900, on the feast day of St. Cecilia, the patron saint of music. He was buried at St. Paul's per royal command. When he died, he was writing an opera, The Emerald Isle, which was completed by Edward German and premiered in 1901 at the Savoy. The Te Deum Laudamus had its first performance at St. Paul's in 1902.
In recognition of his contribution to music, he was knighted by Queen Victoria in 1883. A monument to Sullivan stands in the Victoria Embankment Gardens, in London.