April Martin's route to songwriting is anything but conventional. Having secured a psychology PHD and built a successful career in New York (and still maintaining her practice), she came to music later in life. Her life experience and emotional maturity certainly show through on In the Blink of a Life, her second album, which sensitively explores some of our most intimate emotions.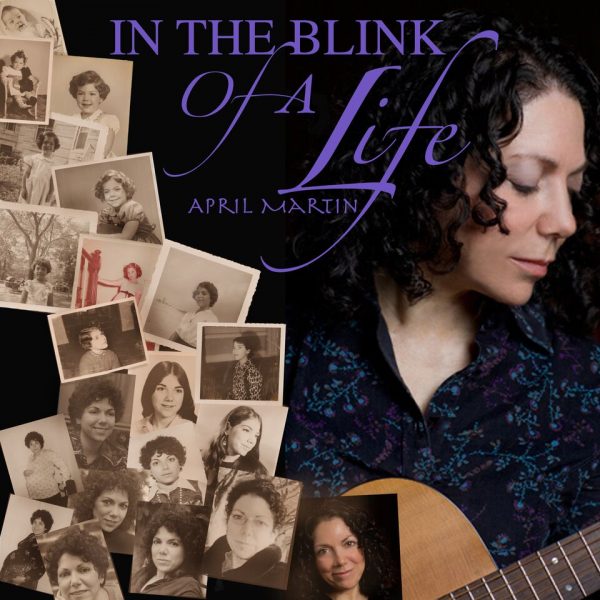 Martin's vocals avoid flamboyance and are delivered sincerely and often with tenderness.
This is combined with an honest simplicity to Martin's music that will appeal to listeners who enjoy acoustic pop with a hint of country. Her expression of feeling love on "Heartbreak doesn't come" is straight to the point, without  idealising it as so much pop music does. While some of the other songs about love don't quite make such a strong impression, they are always sung with feeling and are never formulaic.
She is equally capable of turning to a reflective and quietly moving tone on "Looking back," a retrospective on the life of a close friend or relative, and "Would you let me in."
Martin shifts gear a little in the second half of the album. An optimistic sense of enjoyment comes to the fore, even when she tackles some of life's biggest problems. Just try taking a listen to "Sara's lullaby," "One part truth" or "The party's in full swing." The latter two tracks stand out additionally for their strong country feel and this almost seems to suit Martin's lyrics even more than some of the album's earlier offerings."
In the Blink of a Life concludes, appropriately enough, with "Praise the morning," a reflection on time passing by and the changes that accompany it. Its an effective end to an album that will speak to anyone searching for an honest examination of some aspects of life's ups and downs, at times in an emotional, thoughtful way, but nonetheless with an outlook underpinned by optimism and occasional humor.
Find out more about April Martin on her website or on Facebook.