Back in 2011, Belgian harpist Anneleen Lenaerts, now a soloist at the Vienna Philharmonic, recorded an album containing harp arrangements of Chopin's and Liszt's most famous compositions: just listen to her interpretation of the Fantaisie Impromptu, which does justice to the original, or allow yourself to drift in a romantic reverie while being serenaded by her arrangement of Liszt's Liebestraum.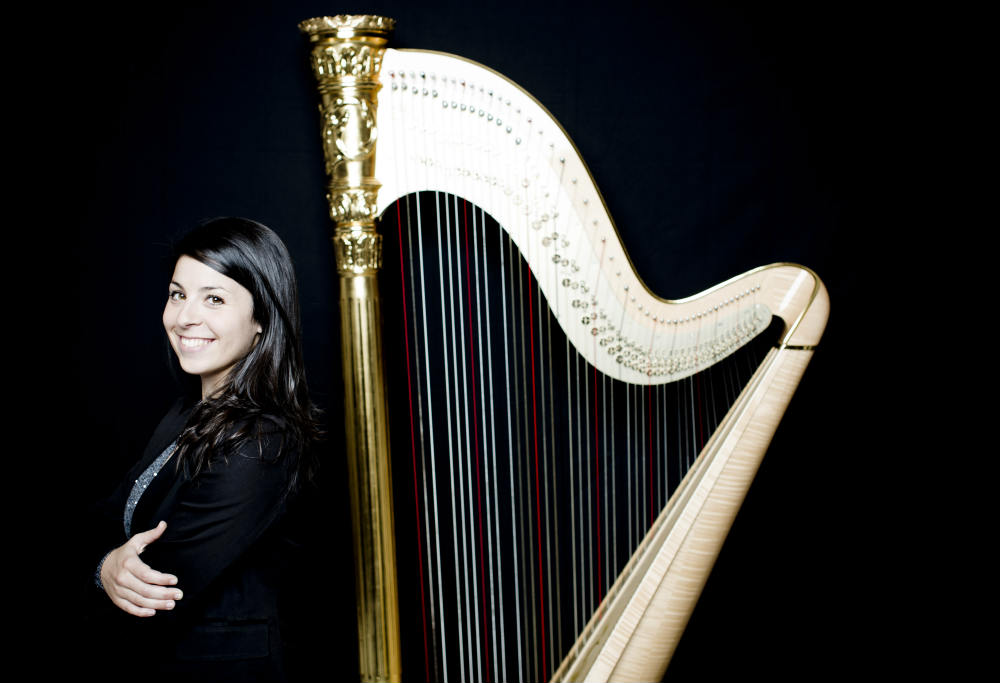 However, where Lenaerts's virtuoso technique is quintessentially classical, her inventive style transcends the borders of the genre she is proficient in (for starters, she would not mind owning an electric harp).
In a recent interview with BR Klassik, the solo harpist showed the host the nuts and bolts of her instrument, and explained that, in order to create a successful program for harp, you have to avoid playing an all-romantic program even though those melodies fit the instrument the most: a little bit of "jazz" would complement a romantic repertoire really well.
That, minus the improvisation. A harpist has a hard time improvising, because, for each chromatic change, a considerable amount of pedal action is needed in order to tune the harp.
By the way, when she has to deal with her instrument's pedals (which, with her being the solo harpist at the Vienna Philharmonic, is quite frequent) she favors wearing high heels, she told BR Klassik.
When she is not performing solo or with the Vienna Philharmonic, she plays with clarinetist Dionisys Grammenos and Oboist Karel Schoofs, with whom she collaborated for a CD containing harp and oboe arrangements of Debussy's, Saint Saëns's and Ravel's works.
"When and why did you start playing?"
"I am the youngest of 3 children and both my older brother and sister played the piano, along with other instruments. It seemed natural for me to start playing the piano too. I then wanted to start a 2nd instrument in order to play in a local orchestra, preferably oboe or clarinet, but the conductor decided differently since he wanted a harp in his orchestra. He thought I would be the most suitable for it and basically forced me to choose! I had never seen or heard this instrument before in my life and it wasn't because I had been inspired by Tchaikovsky's ballet harp cadenzas like most harpists, so was a bit sceptical in the beginning. Now I'm really pleased with this choice, but in general making music was more important to me then the instrument itself, since the instrument is only a "tool" to express the music."
"What are you proudest of in your musical journey?"
"When I was 18 I won the Grand Prix Lily Laskine in Paris, one of the most important harp competitions in the world. It was a very special moment for me and I was given many great concert and recording opportunities afterwards. However, winning competitions is one thing but you need to keep working hard afterwards, since it's not the end but only the beginning! It's very important to keep challenging yourself. I'm proud that by working hard, I went from one great experience to the other!"
"What's the toughest part of being a musician?"
"I think the toughest part is to always have to "prove" yourself at every concert. Of course I fully enjoy being on stage and performing, it's a beautiful thing that music is never the same and created over and over again in every concert, but the audience's expectation is always there and you have to be able to live up to it.
A musician is never on holiday :-)"