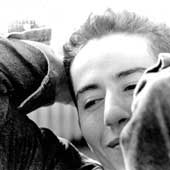 Hicham Chahidi is a music composer and sound designer. Born in Agadir, city on the Atlantic coast in south Morocco where he listened to Moroccan traditional music, African music, Berber music, oriental music.
In 1989, he moved to Brussels in Belgium where he started sound engineer studies. Hicham Chahidi discovered the richness of Western music and especially loved symphonic music. Today he produce and compose music for audiovisual broadcasting. His work can be heard and downloaded from his royalty free music Library (Music Screen) at: www.musicscreen.org
One of his last composition is Paq and can be downloaded from here.
An interview with Hicham Chahidi
Mike Lee: I know you love symphonic music. What brought you in this genre?
Hicham Chahidi: The first time I listened to Beethoven's ninth symphony, it was in the early 90's, I had a shock, the dynamic richness, the harmonic possibilities, and the large palette of colors that a Symphonic orchestra can offer has seduced me. The symphony orchestra represents for a music composer an unrivaled tool; It allows him to explore many sound universes and to approach many families of instruments quite different.
Mike Lee: What is your motivation to compose music for audiovisual broadcasting?
Hicham Chahidi: To compose music for audiovisual productions, the composer must have a theoretical knowledge and a practice of different musical styles: symphonic music, electronic music, World music and in addition to the practice of recent techniques of sound design. Through my love of different musical styles and my original job as a sound engineer, I naturally turned to composition for the audiovisual, which allows me to experiment and mix up areas that i appreciate very much.
Mike Lee: Do you think sound engineer studies helped you in composing music?
Hicham Chahidi: Yes, it helped me a lot for composing electronic music, how to use a resonant filters, how to set up a sidechain compression or how to use a delay unit. I learned all these technique in sound engineer studies. It help me also to record and to mix my acoustic compositions, I don't spend a lot of time in the production of my music, and sometimes, I compose, record and mix in the same time.
Mike Lee: How long time did you take to compose and produce the royalty free music – Paq?
Hicham Chahidi: The composition of Paq took me about three days divided into several sessions. At first my idea was to compose a piece for piano and voice. As time went on I took the option of exploring an arrangement with a symphony orchestra. Recording and mixing took about two days.
Mike Lee: What was it like to work on this project – Paq?
Hicham Chahidi: Working on this piece was like a dream, I was very concentrated working on this music, and after a night of work it was here, but since I did not have enough recoil to make a judgment, I left it for a few weeks without touching it, then show it to my wife by telling her that I had a lot to modify, she replied that she saw nothing to change . So, it encouraged me to continue on the same direction
Mike Lee: I watched your video – Paq on youtube. What challenges you encountered during the process and how did you overcome these challenges?
Hicham Chahidi: The Paq video clip was really simple to produce, it uses images provided by NASA, its a photo from the HUBBLE telescope. So all the work was to navigate into the thousands of images available and to choose the one that I prefer. This image is a photo of the Great Carina Nebula taken on May 27, 2016. The rest of the work was done with the After Effects software.
Mike Lee: What motivated you in composing royalty free music?
Hicham Chahidi: I chose to compose royalty free music because it allows me to manage and control my royalties with great flexibility. So I can decide to give up free of charge for charities, or for students (the use of all the music in my website is free for non commercial productions) . Besides, I can also set prices for commercial uses, which is impossible when you entrust the management of your royalties to a copyright collecting society. Creating royalty free music allows me to compose freely what I want and what I like, without depending on a record company, and to upload my productions on my website www.musicscreen.org after that, those who like my work, can buy a license.
Mike Lee: Do you think you will compose more royalty free music in the future?
Hicham Chahidi: Regarding all the advantages offered by creating royalty free music, I will answer: Yes!
Mike Lee: I noticed you are multi-instrumentalist musician with a preference for the piano and the guembri. Could you say a bit about this and any other styles you find particularly inspiring for?
Hicham Chahidi: Well I use piano everyday to compose music, or simply to improvise. It is a great instrument, it can play chords, melody and bass lines, so it is perfect for a composer. The Guembri is an acoustic bass guitar, it is used in Gnawa music, an African ancestral trance music that still exists in north Africa, specially in Morocco. I met in Belgium a great master of this music, his name is Mohamed Zefzaf and he is part of a long line of musicians Gnawa. Mohamed introduced me to this art and taught me the practice of Guembri.
Mike Lee: Who are the artists have you found most inspiring and how do you see yourself in future?
One of the most inspiring artists I discovered is the American pianist Keith Jarrett, The encounter with his music has upset my vision of the musical creation, the inspiration. He's my great great master. I was also very inspired by Chopin, Beethoven, Pink Floyd, Oum Kalthoum, and hundreds of others .