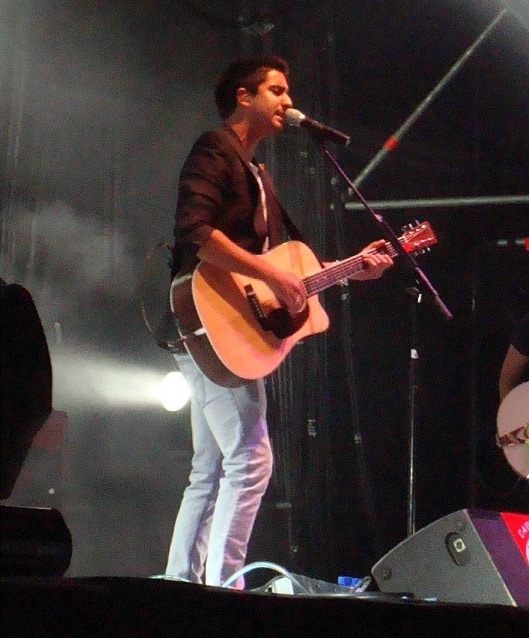 Biography of Alex Ubago 
Alex Ubago has managed to embed himself into the nation and the world's DNA thanks to his brand of heartfelt ballads and lyrics.
DISCLOSURE: This post may contain affiliate links, meaning when you click the links and make a purchase, I receive a commission. As an Amazon Associate I earn from qualifying purchases.
Over the past few years, Spain has produced a number of international superstars that can compete against the likes of Shakira and Julio Iglesias. Nevertheless, Alex Ubago has created a loyal stream of listeners and followers from both Spanish and non-Spanish speaking countries. Alex, like most musicians, had humble beginnings but his appearance as a guest on the smash hit TV show Operación Triunfo helped to launch him into eminence.
Although he was not a contestant and only a guest on Operación Triunfo, his performance on the show made enough of an impression on local audiences. Alex's positive music seasoned with poetic lyrics and contemporary romance have made him a highly sought-after artist and one of the most successful in Spain. With his chiseled chin and great looks, Alex Ubago is a bonafide superstar that is showing no signs of slowing down.
Background and early life
Alex Ubago was born on January 29, 1981, in the Spanish town of Vitoria situated in the province of Araba in northern Spain as an only child. His parents were forced to move to San Sebastian when Ubago was only four years old as a result of financial difficulties. It is in San Sebastian that Ubago laid down his musical foundation.
As a kid, Alex was quiet but he was also quite extroverted and he found it easy to relate and make friends with others around him. At the age of 15, he started dabbling with the idea of creating music, simply because he had the skill to, but it was not after writing the first song that he started to take it more seriously.
He taught himself how to sing in a bid to discover how his songs would sound and before long, he was already writing a couple of songs a day. Confident about his capability, he contacted a cousin of his known as David who was also a musician and operated a home studio. The duo created a few songs together but they were to be presented to Ubago's girlfriend as her birthday gift. However, it did not take very long for the songs to start circulating.
Eventually, the recordings fell into the hands of Inigio Argomaniz, a manager, and music promoter, who then passed on a few select songs to top industry experts. Although nothing major came out of it, he was encouraged to continue writing and recording, which he did. Eventually, he was able to come up with a decent, more sophisticated sound than before that landed into the hands of Dro Atlantic's artistic director Alfonso Perez, who gave Ubago his first big break.
Performance
Albums
Achievements
In October 2000, he signed a contract with Dro Atlantic, which led to the production of his first ever professional album titled Que Pides Tu. The album did fairly well despite him being largely unknown; it sold almost 900,000 units in Spain and received the 2X platinum certification in Mexico, which introduced him to a whole new international market and audience.
At the start of his career, his rise to fame was incredibly gradual and although anyone would have given up after a few unsuccessful attempts, Ubago kept at it. To promote his album and his songs, he would tour regularly and visit radio stations across the country with his guitar, just like other pop stars before him have done.
In 2001, he was featured as a guest performer in the mega-hit TV show Operación Triunfo, which is the equivalent of Spain's Pop Idol. It was this appearance that introduced him to national audiences, and he quickly became a crowd favorite. To capitalize on his newfound fame, he commenced working on his second album, Fantasia o Realidad, which is what really helped to establish him as a respected artist to watch out for that year.
Fantasia o Realidad was a complete success. The single 'aunque no te pueda ver' received gold and platinum status owing to the tremendous number of sales in the US and in most Spanish speaking countries and this launched him into international superstardom. In 2006, he released Aviones de Cristal which featured the track Viajar Contigo, another one of Ubago's many Billboard charts hits.
In 2009, he followed up the success of the third album with an equally impressive one titled Calle Illusion, which was ranked number three in the Spanish Album Charts. He also received a Latin Grammy nomination for this album but lost out to another Spanish musician in the same category.
In 2010, he collaborated with a thriving Cuban singer Lena Perez, as well as Colombian singer and former Bacilos band member known as Jorge Villamizar and the three created a project known as Alex, Jorge y Lena. The Latin supergroup released the self-titled album in September 2010 featuring songs about love and relationships. The first single from the album Estar Contigo, which was written by Ubago and recorded with Burke, was a massive hit in the United States and it peaked at number 22 in the Billboard Top Latin Songs list.
Today, Alex is still highly sought after and he still performs in concerts and private performances across the world. He has appeared in countless Latin and Spanish entertainment shows and magazines and he has received numerous awards because of his great contribution to Latin contemporary music.