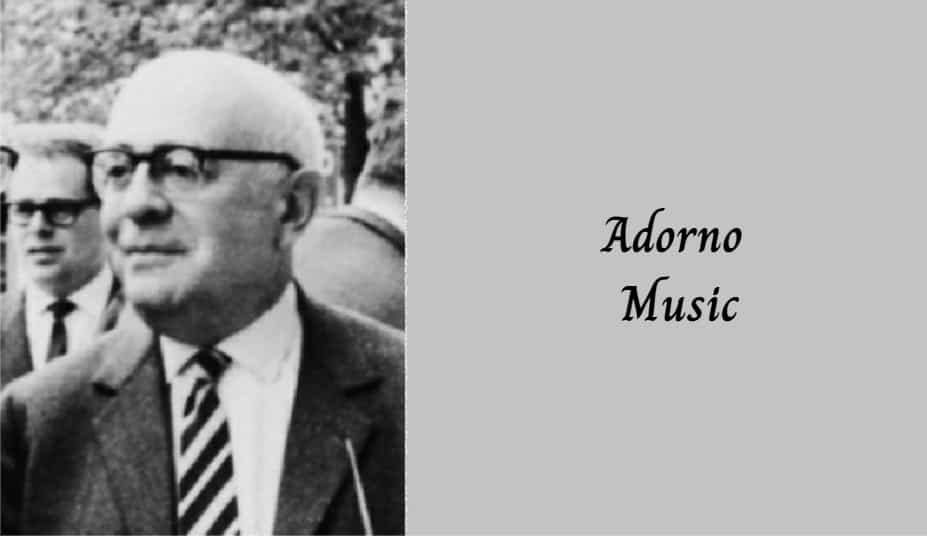 My first encounter with this gentleman was as a postgraduate composition student. I was fascinated, and to a certain extent still am, with the composer Alban Berg. Adorno devoted an entire book to his friend and mentor who he studied with for many years. The book 'Alban Berg: Master of The Smallest Link', is a detailed and personal study of Berg's works and his immense cultural importance. This book was my introduction to one of the most celebrated German philosophers of the 20th Century.
Theodor Adorno was born in Germany in 1903, and even though wrote during his lifetime on a range of topics, his central focus was on human suffering. Influenced by Nietzsche, Hegel, and Marx, Adorno's slant politically was towards socialism from where he made a significant contribution to what became known as 'critical theory'. Adorno was not limited to this strand of philosophical inquiry but deeply involved in the culture of the time. His links to Berg were important but Adorno's wider commentary on the culture and in particular the music of the time is of major significance. Up until fairly recently solid English translations of his work were not available. Happily, many of Adorno's essays are now available in other languages than his native German but still present quite a challenge to read and comprehend.
In his youth, Adorno had piano lessons from Bernhard Sekles and he was seriously thinking about adopting composition as a career alongside that of a concert pianist. Adorno entered the Johann Goethe University in Frankfurt aged only seventeen to study psychology, sociology, philosophy, and music. By the age of twenty-one, Adorno had been awarded his Doctorate in philosophy. It was following his move to Vienna in 1925 that Adorno eased his way into the company of what would become known as The Second Viennese School, and struck up his relationship with Berg.
Schoenberg and Adorno, by many accounts, did not get along even though Adorno was an admirer of the composer's work. Adorno's admiration of Schoenberg's work is illustrated in a 1922 publication 'Neue Blätter für Kunst und Literatur' for which Adorno wrote, heaping praise in Schoenberg's 'Pierrot Lunaire'. The promise of new and cutting-edge artistic possibilities that social circles in which Schoenberg moved did not bear fruit as Adorno expected.
One of the most important publications, now in English, of Adorno's work, is the collection of essays titled 'Essays on Music'. These essays cover a vast range of topics and span a timeline from the 1930s until the mid-1960s.  The collection is divided into four substantial sections as follows: 'Locating Music; Society, Modernity and The New'; 'Culture, Technology and Listening'; Music and Mass Culture'; Composition, Composers and works'. Each of these four areas of interest includes a valuable set of essays on subjects that Adorno devoted his life to exploring and questioning.
Adorno's use of language in many of these key pieces is challenging to follow and requires dedicated study to fully appreciate what he is claiming. Adorno chooses his words with extreme care often deliberately selecting phrases that are designed to provoke and make you think. This underlines his view on certain elements of Mass Culture for instance.
It was in later life that Adorno's writing on music was dramatically propelled forward. In the Collected Edition of his essays, there are twenty volumes of work, forty percent of which focus on music. Schoenberg, Wagner, Stravinsky, Mahler, Berg all become the intense subject of Adorno's writing detailing a staggering study of these composers and the culture in which they lived and worked. A further work titled 'Prisms' (1955) contains some of Adorno's most enlightened and important thoughts on music. Very few other philosophers have so extensively considered music in such a thorough manner.
Adorno's written output was impressive given the brevity of his life. He left a major work on Beethoven ('Beethoven: The Philosophy of Music'), unfinished at the time of his death, and one which had occupied him for most of his working life. This work, also now available in English, is an important analysis of Beethoven's music. Adorno described these essays as "a diary of his experience of Beethoven" ["Beethoven: The Philosophy of Music" by Theodor Adorno: Polity Press 1998: Pp: ix]. Even though the book did not reach completion, there is a generous quantity of vital insight into Beethoven's music including chapters on 'Form and the Reconstruction of Form'; and 'The Late Style'. For any Beethoven enthusiast, this book is an essential one for the collection.
It is worth remembering that amongst all the philosophical writing Adorno was a highly accomplished pianist and composer. Finding recordings of his music is not easy as the interest tends towards his philosophical writing as opposed to his music compositions. His 'Piano Pieces' from 1921 and 1934 respectively are worthy of consideration.
They are as you might expect, deeply indebted to the principles of Schoenberg and Berg but illustrate another creative angle on this complicated man. Adorno's 'String Quartet'  from 1921 makes far less musical sense that the piano pieces to my ears, feeling somewhat like a cobbled-together set of sketches rather than a fully realized work.
You may hear it differently, but ultimately the compositions of Adorno place their harmonic loyalty with serialism, and by the very nature of this type of composition can be challenging to enjoy or understand.
Adorno's life ended quite suddenly following a heart attack in 1969. His lecturing and writing remained popular especially focusing as it did on Mass Culture and analysis of popular culture through to the end of his life. In more recent years, however, Adorno has been the subject of significant criticism from fellow philosophers and musicologists.
Adorno's dissection and criticism of Jazz, in particular, has created a backlash from many quarters that include quotes describing Adorno's essays on Jazz as "containing some of the stupidest pages ever written" [Eric Hobsbawm (Jazz Critic) – Robert W. Witkin: Sociological Theory; Vol. 18, No. 1 (Mar. 2000), pp. 145-170]. Charles Rosen, a major author, pianist, and critic felt equally strongly about Adorno's writings on music as "largely a fraudulent presentation….that pretends to be an objective study".
Anyone writing so on music in the extensive way that Adorno did is bound to attract criticism from many different areas of thought. My feeling is that Adorno had some significant and insightful observations to bring to the table that should be carefully considered before being dismissed.