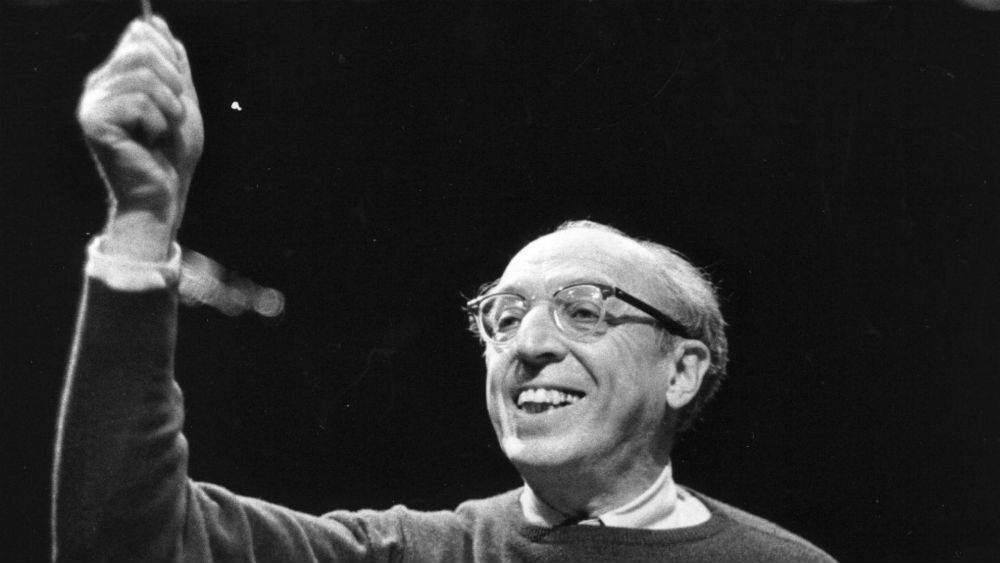 Aaron Copland composed music known for its "American" sound during a time when music in the United States was still heavily influenced by the European composers. With works like Fanfare for the Common Man, Appalachian Spring, and Rodeo, he incorporated folk music, Shaker hymn tunes, and harmonies that resembled the immense and varied landscape, as well as the patriotic and pioneer spirit.
Copland was born November 14, 1900, in Brooklyn, NY. His parents had emigrated from Lithuania and were active in the Kane Street Synagogue, founded in 1856. Copland and his four older siblings developed their interest in music from their mother who played the piano and sang. He started formal piano lessons when he was 13 and had already written some small pieces. By the time he was 15, he was studying theory and composition with Rubin Goldmark who was considered a nationalistic American composer.
In 1921, he went to Fontainebleau, France to study at the American Conservatory. While there, he spent three years studying with Nadia Boulanger, the internationally known composer, conductor, teacher, and pianist. Under her guidance, he had a thorough music education that ranged from Bach to the contemporary composers of the early 20th century.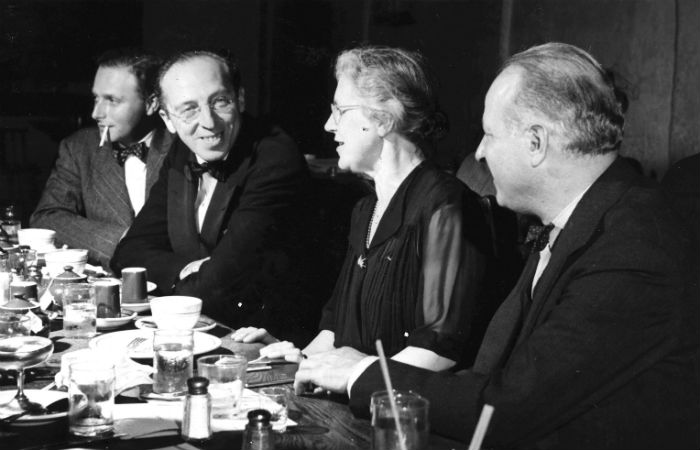 One of those composers was Serge Koussevitsky who asked him to write something for the Boston Symphony Orchestra. That composition, Symphony for Organ and Orchestra, was premiered in 1925 and officially marked Copland's entrance as part of the classical music scene in America. The works that immediately followed contained jazz elements. He wanted to create a distinctly American type of classical music, one that would be as easily recognized as jazz in the U.S., folk music of Mexico, or the nationalistic music of various European countries.
During the Great Depression, Copland visited Mexico several times and became friends with the composer, Carlos Chávez, whose music was influenced by native groups and instruments that made up the Mexican culture. Copland composed El Salón México (1936) to depict a fictional dance hall with both upper class and peasants musically separated by European dances and folk music. It was premiered in 1937 by the Mexico Symphony Orchestra with Chávez conducting and was the first of his signature works that used folk music in a classical composition.
His 1942 ballet, Rodeo, used square dance rhythms and American folk songs to create a setting in the American Southwest. The characters of cowhands and cowgirls exhibited classical ballet training with a flair for comedy found in Broadway musicals. The female lead, the American Cowgirl, competes with the other females to win the attentions of the Champion Roper.
The last section of Rodeo is the most famous of the ballet: Hoedown. Copland weaves various folk songs to create the scene of a social gathering filled with dancing. This ballet was originally choreographed by Agnes de Mille who also danced the role of the American Cowgirl at its world premiere, October 16, 1942, at the Metropolitan Opera House and received 22 curtain calls.
The ballet Appalachian Spring (1944) contains the familiar Shaker hymn tune, Simple Gifts. Martha Graham choreographed it and danced the lead role at its premiere at the Library of Congress, October 30, 1944. The story focuses on a group of 19th-century pioneers who have built a new farmhouse for a newly married couple. The celebration includes the local preacher and neighbors, with fiddling and square dances. This ballet earned Copland a Pulitzer Prize in Music in 1945. Also in 1945, he arranged the music into an orchestral suite. Both versions have remained very popular.
His American music was not just about folk celebrations. His work, Fanfare for the Common Man, was composed at the request of Eugene Goossens, the conductor for the Cincinnati Symphony Orchestra. In 1942, Goossens commissioned a total of 18 fanfares from various American composers in response to the U.S. officially entering World War II, but Copland's is the only one that has remained in orchestral repertory. The world premiere was March 12, 1943, during income tax time to honor the common man.
Copland's death, December 2, 1990, came after a long career that included teaching, writing about music, conducting, and composing. His works ranged from ballets, orchestra works, motion picture scores, and chamber music. His numerous awards included the Presidential Medal of Freedom in 1964 presented by President Lyndon Johnson.