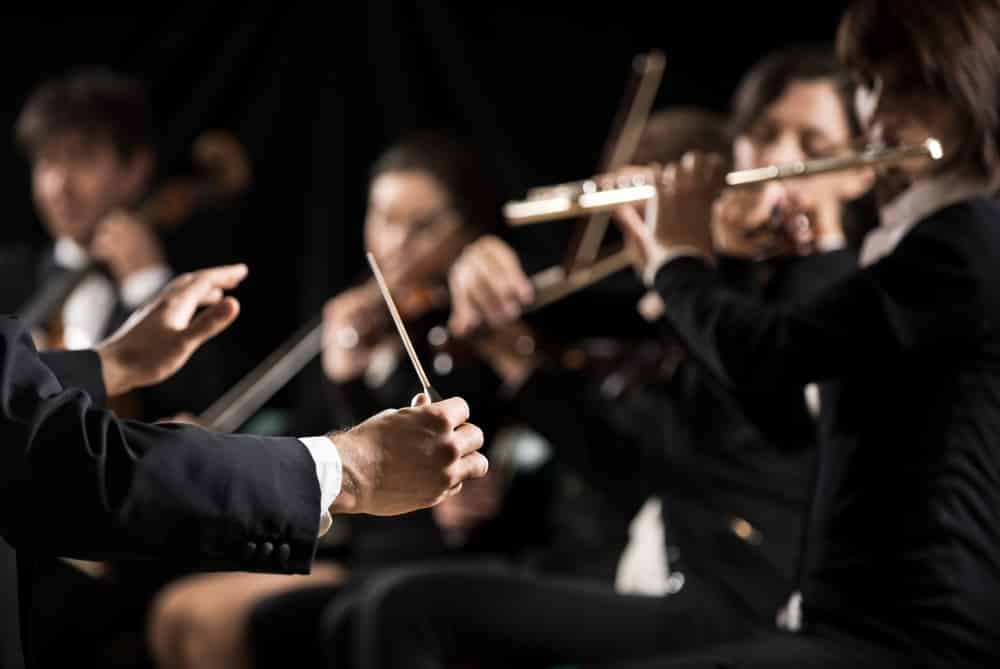 This period in western Classical musical history includes an almost bewildering range of music that cannot be considered in its entirety in this brief article. Instead, I have chosen some of the musical highlights from this period of music that hopefully illustrates the rich diversity of styles and sounds.
The 20th century heralded some immense changes in classical music from the romanticism of composers like Elgar, Sibelius, Vaughan-Williams and Finzi through to the work of the Schoenberg, Berg, and Webern. There is American, jazz-influenced music and Minimalism, through to the more recent work of composers such as Avro Part, John Tavener, Boulez, Stockhausen, and Ades.
20th Century Classical Music
1. Concerto for Cello and Orchestra Op. 40 by Gerald Finzi
One of my favourite concertos for cello is this one by the English composer Gerald Finzi. Finzi remained true to all his influences throughout his brief lifetime and upheld what could loosely be thought of as the English Romantic movement. Without exception, Finzi's compositions are fluently lyrical, tonally warm and deeply emotional. The cello concerto is a work that was composed towards the end of his life and comprises of three movements: Allegro moderato; Andante quieto and Rondo. The structure is quite traditional given the year of 1955 when it was completed, and the broad range of music that was being composed at that time.
The opening movement has a great sense of tension and angst whilst the finale is light, airy and hopeful. It is the second movement that has drawn much attention as it shows Finzi's remarkable gift for melodic composition. If you have not come across the work of this composer the cello concerto is a good place to begin.
2. 'Pierrot Lunaire'; Op. 21 by Arnold Schoenberg
Arnold Schoenberg was a revolutionary thinker and composer. Schoenberg felt that tonal music had reached its limits and he struggled with many of his early works trying to find a solution to this dilemma. His answer was to abandon tonality altogether. Instead, Schoenberg devised a system that meant each step of the chromatic scale was deemed to be of equal value and in one swift step eradicated centuries of key centred tonality.
The resulting compositions became structured around a system called 'serialism', and Pierrot Lunaire is a good example of this type of 20th-century composition. Even though the forms Schoenberg uses for his setting of the twenty-one Giraud poems, are traditional, the sound-world is very far indeed from nearly everything that had preceded it.
The composition is scored for piano, flute, violin, clarinet and soprano who uses a curious and haunting technique throughout called 'sprechstimme' a half-spoken, half-sung vocal delivery. Pierrot is a difficult work to listen to as it is highly dissonant and on first hearing appears fractured and unstructured. It is carefully constructed and composed and has become a cornerstone of 20th-century music.
3. Clarinet Concerto by Aaron Copland
The Clarinet Concerto by American composer Aaron Copland was written between 1947-49. It was commissioned by the 'King of Swing', bandleader Benny Goodman, who somewhat controversially attempted to span the gap between the world of Jazz and Classical music. The concerto is a seamless meeting of these two worlds within the luxurious timbres of Copland's sound-world.
Copland scores the work for strings, harp and clarinet soloist. It opens with a lyrical slow section that moves into a cadenza for the clarinet that gives the impression of being improvised. This is the first glimpse of the 'jazziness' to come and was written to allow Goodman to show off.
The final section of the concerto is a type of 'free' rondo full of jazz and Latin American rhythms that drive the piece forward at a quick pace. A coda concludes the work in the unlikely key of C major that brings a satisfying resolution to the whole work.
4. 'The Rite of Spring' by Igor Stravinsky
Stravinsky was one of the most important and innovative figures of the 20th Century. His ambitious and daring ballet score 'The Rite of Spring', has become one of the most celebrated and performed works from this period of musical history. Diaghilev asked Stravinsky to compose the work for the Ballet Russes. Nijinsky was to be the choreographer and the stage design and costumes were to be provided by Nicholas Roerich.
At the first performance in Paris 1913, there was what can only be described as a riot. Such was upset that this avant-garde work caused that the entire evening descended into chaos. Part of the problem was that Stravinsky's previous scores were far more palatable and traditional in their harmonic language.
The Rite of Spring heralded a vibrant and dissonant new direction for Stravinsky that people found distasteful. The ballet centres its concept around pagan Russia and the sacrifice of a young girl who dances herself to death in the second half of the ballet. It is one of the most extraordinary compositions of the 20th Century full of complex rhythms, detailed textures, and compulsive melodies. In spite of its initial reception, The Rite of Spring is now a firm favourite in the orchestral repertoire.
5. String Quartet No. 8 in C Minor (Op. 110) by Dimitri Shostakovich
This String Quartet was composed in 1960 by one of the key composers to be writing in 20th Century Russia. Shostakovich worked during a time of great repression in Russia, never knowing whether his work would bring him success or death. Shostakovich composed this quartet in an astonishing three day period whilst he was living in Dresden. It is thought to be dedicated to the victims of war and its tone is certainly dark and sombre.
That year, Shostakovich had also received the news that he had a progressive muscular condition that would become increasingly difficult for him. Besides, he had been forced into finally joining the Communist Party, a decision that only plunged him into a worse mental state.
The String Quartet number eight is a twenty-minute work that divides into five intense movements. It is the opening movement that often attracts comment as it is based on Shostakovich's initials; DSCH along similar lines to some of the works of JS Bach. The work is deeply reflective and seems to find the composer looking back to happier times as he quotes a number of his older compositions. This is a very personal work for Shostakovich and one the most compelling in the whole string quartet repertoire.