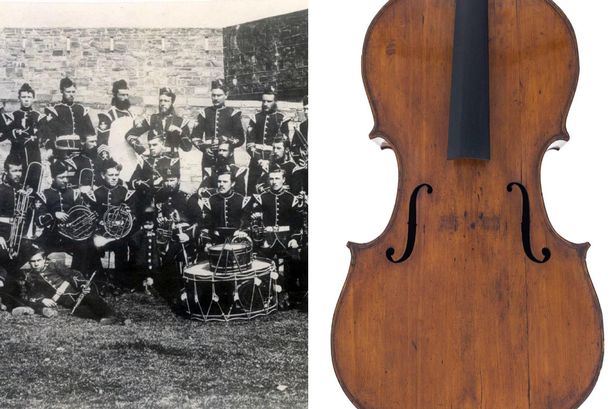 A historic cello which travelled to war with its owner in South Africa during the 19th century has been sold at an auction house in Wales for £6,200.
The instrument belonged to Sergeant David Gamble, a member of the Second Warwickshires in the British army, who went to Africa in 1879 to fight in the Zulu wars. Gamble was killed at the first battle between the two forces, the Battle of Isandlwana, but his cello was recovered and repaired in 1884.
Richard Davies, The curator of the Regimental Museum of the Royal Welsh, explained that instruments were taken by soldiers to Africa for parades, but would not have been taken into battle. A picture, taken in Cape Town months before the battle, shows a group of soldiers with one holding a double bass. "We don't know who is in the picture and I wouldn't like to say which of the men is more likely to be Sgt Gamble," Davies added.
The cello was built around 1800 in Dublin and has been in the hands of a European collector for some time. It spent the last sixty years in storage and was auctioned along with a larger collection of items. The original asking price for the instrument was £10, but significant interest ensured that the sums offered quickly increased.
The auction took place on 20 January, close to the 137th anniversary of the battle on 22 January. An anonymous musician purchased the cello and has promised to restore it and play it again.