If you love musical theater and you find yourself humming a particular melody, chances are that you are actually thinking about an 11 o'clock number, that show-stopping song that brings about a heavy emotional denouement or a significant change of heart in the character who performs it.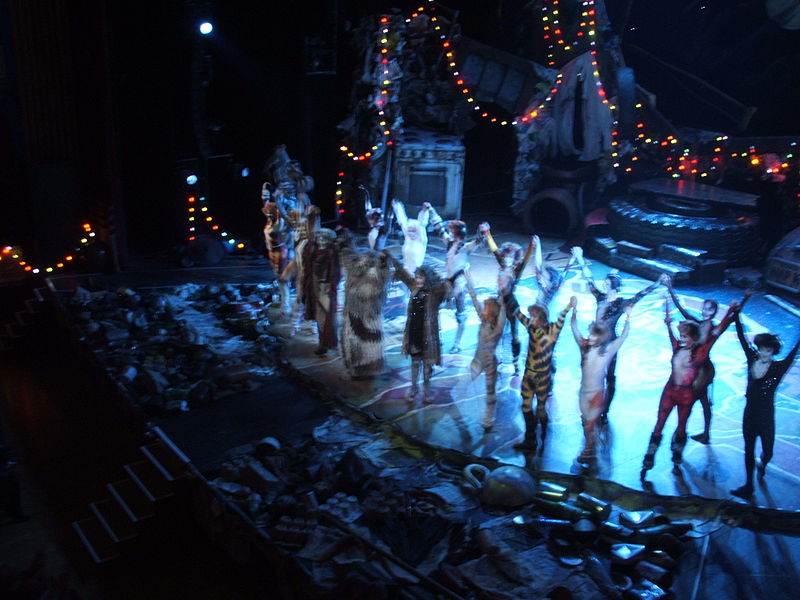 Such songs owe their name to the fact that, back when musicals started at 8.30 pm, performers would sing those numbers at 11 pm, right before the grand finale.
Here are a few that we think will achieve a similar status to the most important arias come 2050.
Rose's Turn (Gipsy)
The high-point of the musical "Gipsy," it occurs when mama Rose realizes that, after all the sacrifices she has made, she is left with nothing but ungrateful children. A woman with dreams that were too strong and with a heart that held her feelings hostage, Rose finally drops her façade.
Memory (Cats)
Grizabella used to be a glamorous lady-cat, and, during the events of the musical Cats, she is the shadow of her former self and struggles to be accepted back into her former tribe. She first hints at the song during the first act and then performs it in its entirety towards the end (it's an 11 o'clock number indeed). What makes it even more haunting is that a segment is sung as a duet: in it, Grizabella's woe is counteracted by young Jemima's hope. Curiously, Andrew Lloyd Webber thought that the tune sounded similar to Ravel's Bolero. Can you detect any similarities between the two?
You Must Love Me (Evita)
This song was composed for the film adaptation of the musical Evita, where Madonna played the title role. This marks the creative reunion of Webber and Tim Rice, who had spent the previous ten years apart to pursue their individual projects. The lyrics and the score are meant to showcase the emotional state of a dying Eva Peron and her relationship with her husband "You believed in me, I believed in you," Eva sings in the first verse. Following its release, You Must Love Me was included in several stage productions of the play, including the recent Broadway and West End revivals.
The Winner Takes it All (Mamma Mia)
https://www.youtube.com/watch?v=2OBneuoZaOw
Originally titled "The Story of My Life," The Winner Takes It All was thought to mirror the divorce between Abba band members Björn Ulvaeus and Agnetha Fältskog. Both parties, however, maintain that it is not a fictionalized recount of their divorce, mainly because there were no winners in their own separation. For the stage adaptation Mamma Mia, The Winner Takes It All becomes the emotional climax of the musical, with the character of Donna unraveling her emotions in front of her former lover Sam, who broke her heart when it emerged he was engaged.
Always Starting Over (If/Then)
We mainly know Idina Menzel from the musical Wicked and for breathing life into Queen Elsa in Frozen. In 2014 she originated the lead role in the Broadway musical If/Then, which narrates two parallel paths of a woman named Elizabeth. Always Starting Over is the musical's ultimate showstopper.
Cabaret (Cabaret)
The dawn of National Socialism has come, her lover Cliff Bradshaw left her, so Sally Bowles goes back to the Kit Kat Club and urges audiences to "come to the cabaret." Michelle Williams, who played Sally Bowles during the 2014 revival of the musical, interpreted the song with increasing fear and sorrow rather than with doomed joy.
One Night Only (Dreamgirls)
This song is performed in two versions in the 1981 musical Dreamgirls and its subsequent 2007 film adaptation: the first is a soulful ballad sung by disgraced singer Effie White, the second is a disco hit aced by Deena Jones and The Dreams.
Listen (Dream Girls)
Two 11 o'clock numbers in a musical? Yes, since Listen was written specifically for the film adaptation of Dreamgirls, where the character of Deena Jones is played by Beyoncé. In the second half of the film, Deena is growing tired of her husband's creative and psychological control–understandably, as he explicitly told her that he chose her as the lead singer because her voice "had no personality, no depth, except for what he put in there." As a consequence, through Listen, Deena finally asserts her independence.
What I did for Love (Chorus Line)
The production is almost wrapped up and the eight selected are together onstage. Suddenly they are asked what they would do if they are told they can no longer dance. The character of Diana Morales belts out an anthem to philosophical loss paired with undefeated optimism. Whatever happens, they will be free of regret.
You Stupid Bitch (A Parody from the TV show Crazy Ex Girlfriend)
Crazy Ex Girlfriend narrates the toils of Rebecca Bunch, a high-strung lawyer who leaves a glitzy life in New York City to reconnect with Josh Chan, her teenage-years sweetheart, after accidentally running into him on the street. The show details all of Rebecca's goofy attempts to seduce  Josh, who not only has a girlfriend but is also not the brightest mind in West Covina, California. Rebecca's act awkwardly collapses in episode 11, and, in a meta-narrative frame reminiscent of Cabaret, she sings a power ballad that details her worthlessness and her ability to "Ruin Everything." Rachel Bloom won a Golden Globe for originating (actually writing, creating, and starring as) the character of Rebecca.